Our experts at LockRite have gone the extra mile, to pull apart all the data and have determined the most burgled towns and cities in the UK.
LockRite define burglary as 'Illegal entry into a building, premises or property with the purpose of committing a crime, specifically theft'. Although technology and alarms have significantly improved over the past few decades, burglary is still a prevalent crime in and among cities, towns and surrounding areas.
From June 2021 – 2022, there were a reported 196,066 burglaries in the UK alone, with 20% of these taking place in the London Metropolitan Area.
Burglary Statistics you need to know
The London Metropolitan Area is statistically the most burgled place in the UK, as mentioned in the previous paragraph. Although this is expected due to their being almost 10 million people living in the area, as of 2023, it's over double the amount that Greater Manchester recorded for the year.
Burglary statistics also show that you're 50% more likely to be burgled living in England than you are in Wales. Although this piece of information may seem shocking, there are 55 million people in England, compared to only 3 million in Wales.
The Top 10 Most Burgled Places in the UK
London
Greater Manchester
West Midlands
West Yorkshire
South Yorkshire
Hampshire
Lancashire
Essex
Merseyside
Kent
Burglary Prevention
Now that you've been updated on the latest burglary statistics, you may be wanting to prevent your own home or business from burgled. Listed below will be some ways that you can help to prevent 2nd degree burglary, and even 1st degree burglary.
Make your home look like it's occupied
Lock all the outside doors and windows before you leave the house or go to bed
Keep your garage door locked
Lawn mowers, barbecues and bicycles are best stored out of sight
Use curtains on garage and basement windows
Why Do Burglars Burgle?

Let's start off with the question that matters the most.
According to the Met Police, Burglars are often opportunistic criminals, with a preference for targeting residential properties like houses and flats. They actively seek out vulnerable points of entry, especially open, unlocked, or easily forced open doors and windows.
The sight of valuable items through a window, acts as an additional motivation for burglars to carry out their criminal activities.
In several instances, burglars choose a specific residence after spotting a valuable vehicle, motorcycle, or bicycle they intend to steal, assuming that the keys are likely to be stored inside the targeted property.
These patterns highlight the importance of securing our homes and vehicles, ensuring that doors and windows are properly locked, and valuable items are not readily visible from the outside.
By understanding the methods and motivations of burglars, we can take proactive measures to protect our properties and belongings, reducing the risk of falling victim to opportunistic criminals.
Is Burglary Getting Better/Worse
When looking at figures from the Office for National Statistics (ONS), the last two years have witnessed a significant impact on crime trends due to the COVID-19 pandemic and government-imposed social restrictions.
As society navigates the aftermath of the pandemic, understanding these shifting crime patterns is essential in devising targeted measures to ensure the safety and security of communities across the country.
UK Burglary Statistics
Let's take a look at some burglary rates across the UK.
Middlesbrough, Westminster, and Leeds have the highest crime rates in England and Wales, recording 11, 11, and 9 crimes per 1,000 residents, respectively
South Yorkshire has the highest burglary rate overall, with 8 offenses per 1,000 people in 2022
Bristol has the third highest burglary rate, with a rate of 6 per 1,000 residents
Plymouth is the safest area in England and Wales for burglary, with a remarkably low crime rate of 1.6 in 2022.
Take a look at the tables below for more in-depth information.
The Most Dangerous Towns & Cities for Burglary
| | | |
| --- | --- | --- |
| Position | Name | Crime Rate |
| 1 | Middlesbrough | 11.45 |
| 2 | Westminster | 10.85 |
| 3 | Leeds | 8.86 |
| 4 | Birmingham | 8.35 |
| 5 | Kingston upon Hull | 8.26 |
| 6 | Southwark | 7.85 |
| 7 | Sheffield | 7.78 |
| 8 | Hackney | 7.63 |
| 9 | Wolverhampton | 7.31 |
| 10 | Camden | 7.30 |
The Safest Towns & Cities for Burglary
| | | |
| --- | --- | --- |
| Position | Name | Crime Rate |
| 1 | Plymouth | 1.60 |
| 2 | Swindon | 2.39 |
| 3 | Norwich | 2.87 |
| 4 | Swansea | 3.00 |
| 5 | Bexley | 3.10 |
| 6 | Milton Keynes | 3.51 |
| 7 | Southend-on-Sea | 3.58 |
| 8 | Brighton and Hove | 3.63 |
| 9 | Kingston upon Thames | 3.72 |
| 10 | Luton | 4.11 |
The National Picture

During the period from March 2022 to March 2023, the United Kingdom witnessed a significant total of 267,921 reported burglary cases.
Analysing the 'Crime Rate per 1000 People' data reveals a concerning trend, as burglary rates have been steadily worsening over time.
Looking at the table below, we can see there have been changes in the number of burglaries per month from March 2022 to March 2023, with figures peaking at an all-time high in January 2023.
| | |
| --- | --- |
| Mar 2023 | 21,071 |
| Feb 2023 | 20,496 |
| Jan 2023 | 22,674 |
| Dec 2022 | 20,431 |
| Nov 2022 | 21,678 |
| Oct 2022 | 22,005 |
| Sep 2022 | 19,978 |
| Aug 2022 | 20,127 |
| Jul 2022 | 19,125 |
| Jun 2022 | 18,343 |
| May 2022 | 20,540 |
| Apr 2022 | 20,307 |
| Mar 2022 | 21,164 |
ONS Statistics
Looking at the information below, taken from the Office for National Statistics, we can see that there were:
271,519 reported burglary offences
393,637 reported vehicle offences
1,648,404 reported total theft offences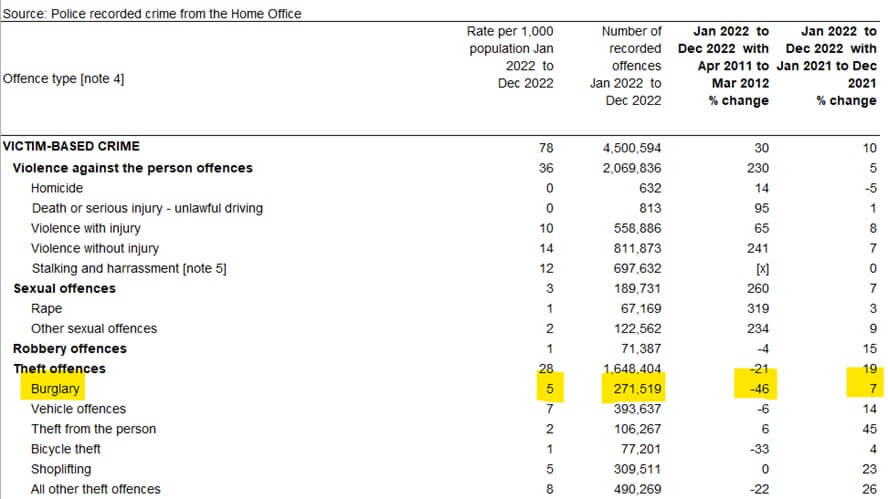 Screenshot taken from an Office for National Statistics spreadsheet
Metropolitan Police Facts

As one of the most prominent police forces in the world, the Metropolitan Police Service (MPS) boasts a rich history and plays a crucial role in safeguarding London, one of the most dynamic and diverse cities on the globe.
Let's take a look at what they have to say.
Burglars carefully target homes they believe hold valuable items, and certain indicators make a break-in more enticing. For instance, leaving packaging from expensive purchases outside the front door can be a clear giveaway.
They scout for potential targets by looking for vulnerable points of entry, such as open windows or doors, and features they can exploit.
Burglars are strategic in their timing, often striking when homeowners are expected to be away, like during the school run or holidays.
Avoiding detection is crucial for burglars. They prefer houses where there is less chance of being seen or heard by neighbours or passersby, as being noticed increases the risk of exposure and prompts them to seek another target.
Sometimes, burglars select a home because they've spotted a valuable vehicle, motorcycle, or bicycle parked there, knowing that the keys might be inside the house.
Sheds and garages are also appealing targets due to their lack of strong security and the presence of tools that can aid the burglar in gaining entry to the main house.
Shockingly, many burglars return to homes they've previously robbed, often because the homeowners failed to upgrade their security measures after the initial break-in. Moreover, they may revisit the same area to target neighbouring homes they noticed while committing a previous burglary. This emphasises the importance of ensuring your home is adequately secured.
[Source: Seven facts about residential burglary]
Additional Police Support Given Due to Rising Figures
On Thursday 16th December, then Home Secretary Priti Patel announced a substantial funding boost of up to £1.1 billion for policing in the upcoming year.
The primary objective behind this increase in resources is to support the implementation of the Beating Crime Plan
The plan's mission is to reduce the number of victims, foster safer neighbourhoods, and establish a more secure country.
The plan places specific emphasis on combatting homicide, serious violence, and neighbourhood crime
Even More Information

For additional information about theft and burglary offences, please feel free to take a look at this spreadsheet, created by the Office for National Statistics.
https://www.ons.gov.uk/file?uri=/peoplepopulationandcommunity/crimeandjustice/datasets/policeforceareadatatables/yearendingmarch2023/pfatableyemar231.xlsx
We're Here to Help
We help prevent homes from being burgled. We can provide you with a security survey to check that your home or property is secure, that your locks are covered by your insurance and also give advice to ensure your property isn't an attractive target to potential thieves in the future.
If your home or business premises has fallen victim to a break in, we can also help make your property secure again.
We can repair damage to your doors and frames and repair and replace any locks that have been damaged during a break in.
So, if you have been a victim of a burglary or break in and need your locks fixed or replaced, then call us on 0800 0612 677.