Yale Apartment Alarm
Burglar alarms can be an important addition to your home security. Not only will they sound an alarm if an intruder enters your home but they can also work as an effective deterrent. A recent study revealed that 60% of burglars would be discouraged from targeting a home with an alarm.
"What burglar alarm should I buy?"
You can buy several different types of alarm. It's important to choose a burglar alarm that is the right fit for your lifestyle and home. The alarm you choose will depend on the cost, the security you need and the type of property you live in. For example, if you live in an apartment, you wouldn't fit a burglar alarm to the outside of the property. But you could fit a product such as the Yale Easyfit Apartment Alarm. The Easyfit apartment alarm has a internal siren that will sound and alert others of an intrusion.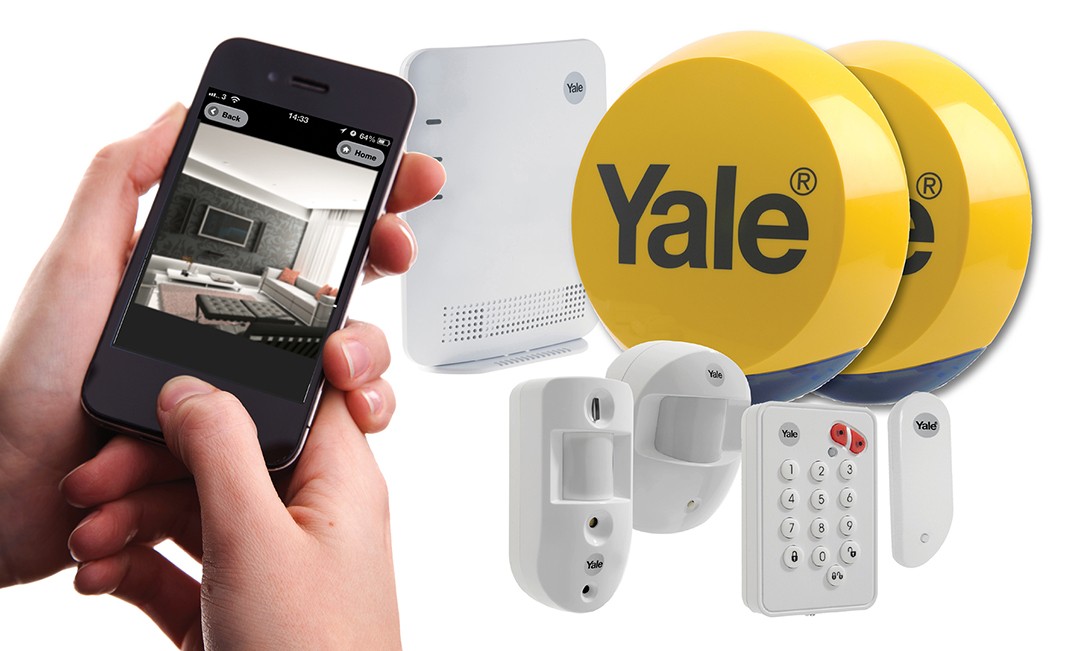 Yale SmartPhone Alarm
Before buying a burglar alarm, think about what you want to happen when the alarm is activated. Some alarms will make a loud noise but will not alert local authorities or the owner of the property. Other alarms have the ability to automatically call or alert the homeowner when the alarm is set off. With The Yale Smartphone Alarm you can control your alarm system remotely. This allows you to arm and disarm your home's system via your smartphone. You can be alerted through your smartphone as soon as the alarm is triggered. If the alarm is activated by a motion sensor with a camera inside your home, the image will be sent to your mobile.
Burglar alarms can either be wireless or wired, which system is best for you will depend upon your needs. The obvious difference between the two is the ability to send a signal with or without wires. If you buy a wired system, the signal from a sensor is sent to the control unit through wires. A wireless system will send the signal with wireless infrared or radio signals. Wireless alarms are usually more practical and generally need less time to set up. You also have the benefit of easily moving the alarm and components between properties.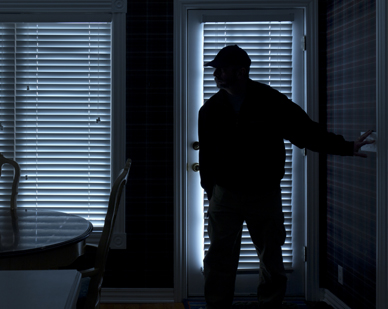 Burglar Entering Home Without Alarm
What triggers an alarm will depend on the alarm and the accessories you buy. A standard alarm will come with detectors that cause the alarm to sound when movement is detected. These infra red or 'PIR' motion detectors can be placed in rooms that you feel are most at risk. Some alarm systems come with 'pet friendly' sensors so they can't be set off by your pet.
For an extra level of security you could link your burglar alarm with door and window contacts. These can monitor doors and windows for movement, such as the door being opened. When movement is detected the alarm will sound. Some door and window contacts can be purchased as stand alone products with built in alarms. Door and window contacts can be attached to easily accessible entry points to your home.
Our professional locksmiths are able to install the range of Yale EasyFit alarms
Call us today on 0800 0612 677 for more information and a free, no obligation quote.