Yale Digital Smart Locks enable you to lock your doors with the tap of a button. You can lock and unlock your door by using the dedicated Yale Security app, dedicated key fob or by typing in a unique code. You can even give a temporary code to allow friends, relatives or cleaners in while you're away.
For PVCu Doors
PVCu doors are the most common form of replacement doors and feature a multipoint lock running the length of the door. A multipoint lock often locks in three places and features rollers to ensure a tight, weatherproof seal, making for a highly efficient and more secure locking solution. PVCu doors are often made of a white plastic resin, but are available in other finishes.
For Composite Doors
Composite doors also feature a multipoint lock, and are often finished in a woodgrain effect, to give them a more natural timber look.
For Timber Doors
A traditional timber door usually features a nightlatch, which has a single locking point that is often round-edged and spring loaded. Timber doors can be fabricated from softwood or hardwood, and can include glazed panels and a moulded fascia. Finished in either a natural glaze or a coloured paint, a timber door can be easily identified by the distinctive sound of knocking on wood.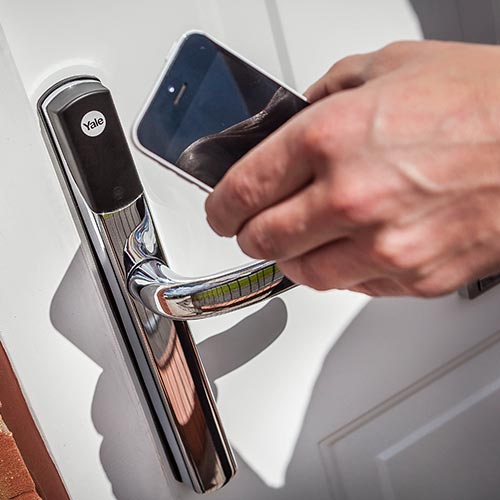 With the Conexis® L1 lock, your smartphone is now your key. There's no need to leave keys under the mat or worry about the hassle of replacing them if they go missing. Stay in Control - Send mobile keys to family and friends. Choose to give access for a few weeks or hours - It's up to you. You can even revoke mobile keys, key cards, key tags and phone tags in an instant.
Know Who Comes and Goes - Have peace of mind knowing your loved ones are home safely. When using mobile keys you can receive a notification informing you they are home.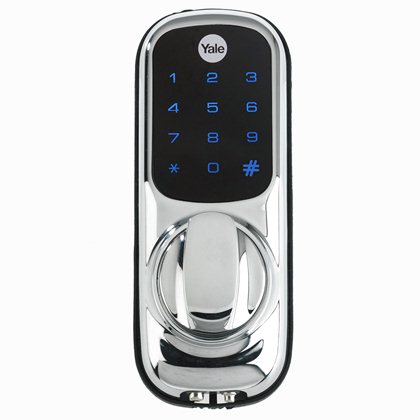 The Yale Keyless Digital Smart Lock is compatible with timber doors. A unique 4-10 digit PIN code can be used to unlock your door. You choose how you want to open your door, Pin code, key card, key tag / fob and smartphone operated.
Features
Replaces existing rim cylinder used on a 60mm backset nightlatch
Touchscreen with backlit keypad
Low battery indicator with emergency battery connection
User codes and settings remain if batteries are replaced
3 minute lock out if code is entered incorrectly 5 times
2 year guarantee
For use on timber doors
Remote fob and smartphone operated
Convenience
There's no need to worry if your children arrive home early, or if you're stuck at work with friends on your doorstep. You control who and when people have access to your home. For example, you can set a PIN code that works for 24 hours for a family member or your cleaning person.
Simple to use
Open your door with a PIN code. It is also easy to add and remove users if you need to.
Always On
Don't worry if the electricity goes down as the smart lock is powered by 4 AA batteries. It will even warn you when the batteries are running low.