Home Security Comprised By Low Grade Key Safes
Key safes are becoming a common place accessory, especially for home help environments where 24 hour access by different services is required. However, low security key safes need to be secured properly, as otherwise they can offer an attractive prospect to opportunists and burglars.

The first step is positioning key safes in locations which are accessible, but are difficult to get tools to reach. Otherwise, a burglar may be able to simply use a hacksaw or crowbar to get inside your safe.

The C500 police approved key safe provides a strong solution. The safe is as tough to break into as a front door though it needs to be installed into concrete in order to get accreditation. Key safes are often attached into powdery mortar, and this leaves them ready to be pulled away with ease. Make sure that any key safe is installed securely into sound brick or concrete with sufficient length screws and sound anchoring.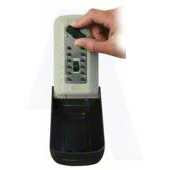 LockRite Locksmiths Bournemouth are experienced in the supply of quality key safes and providing practical advice on the use and installation of these devices. When correctly installed, they can prove secure and reliable for many home help applications in addition to rented properties for key handover.
Give LockRite Locksmiths Bournemouth a call on 01202 057312.
(Example of a C500 digital key safe -Image Aldridge Security)
Posted By : LockRite Locksmiths Bournemouth